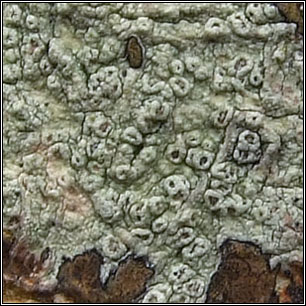 Order: Pertusariales Family: Pertusariaceae

Species: Pertusaria hymenea


Growth type crustose.
Photos: Gougane Barra, Co. Cork, SW Ireland.
Identified by John Douglass

Thick cracked and wrinkled thallus, yellowish-grey to grey-green. Margin slightly zoned. Irregular-shaped apothecia, concolorous or pinkish with thick, crenulate margins. Discs are +/- open. The asci are 8-spored with thick walled, simple spores 60-110 x 30-50 Ám. Microscope photographs below.

Common on shaded, smooth or rough-barked trees.
Cortex: K-, C+ yellow, KC+ orange, UV+ orange. Medulla: K-

Similar: P. pertusa. Discs less open, 2-7 apothecia in each wart.