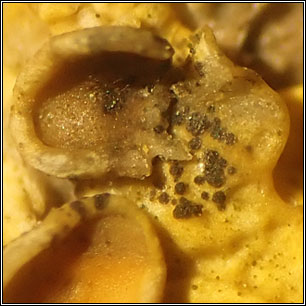 Order: Arthoniales Family: Arthoniaceae

Species: Arthonia parietinaria #


Growth type lichenicolous
Photos: Drinagh area, Co. Cork, SW Ireland on Xanthoria parietina

The black convex apothecia are usually in clusters of 10-50. Asci 8-spored, spores hyaline, 1-septate, (9-)10-12(-13) x (3-)4-5(-6) Ám with the upper cell usually broader and slightly shorter than the lower. Microscope photographs below.

Occurs on thallus and apothecia of Xanthoria parietina.

Similar: Arthonia molendoi on Calogaya spp. (Caloplaca s.l.). Now thought probably not occurring on Xanthoria spp.