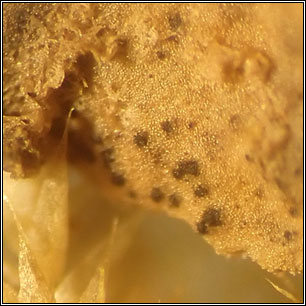 Family: Dacampiaceae

Species: Pyrenidium actinellum sens. lat


Growth type lichenicolous
Photos: On Peltigera collina, Ballyvourney, Co. Cork, SW Ireland

Small globose to subconical perithecia +/- immersed in host thallus. The asci are 4(-8) spored, spores green-brown becoming dark brown, 3-septate with paler end cells, 19-30 x 8-11 Ám. Microscope photographs below.

Widespread and recorded on a wide range of host genera including Baeomyces, Diploschistes, Heterodermia, Pseudocyphellaria, Leptogium, Lobaria and Peltigera.