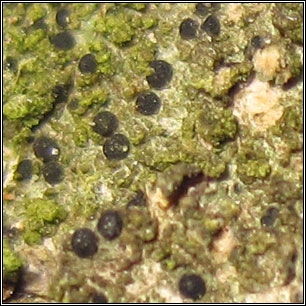 Order: Lecanorales Family: Catillariaceae

Species: Catillaria nigroclavata


Growth type crustose
Photos: On tree trunk, Aughinish, Co. Limerick, Ireland.

Thin, often inapparent thallus, pale grey to dark grey-brown. Apothecia 0.15-0.3mm, dark brown to black. Asci are 8-spored, spores 1-septate, 8-10 x 2.5-3 Ám. The hymenium is colourless and the paraphyses have dark, swollen tips. Microscope photographs below.

Found on both rough and smooth barked deciduous trees and can be locally common on twigs in young woodland.