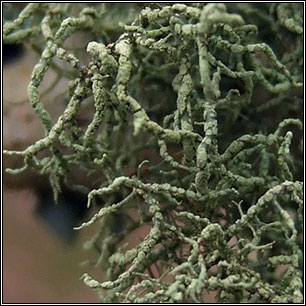 Order: Lecanorales Family: Parmeliaceae

Species: Usnea esperantiana


Growth type fruticose.
Photos: Ballingeary and Macroom, Co. Cork, SW Ireland.

Small, usually erect, base not blackened, surface rough, warty. Numerous thin twisted branchlets not or slightly constricted, tips recurved and covered with soralia. Isidia absent, apothecia rare. Medulla: K+ red, P+ red

Occurs on deciduous trees and shrubs, often in well-lit exposed situations and orchards. Mainly in West and central Ireland.