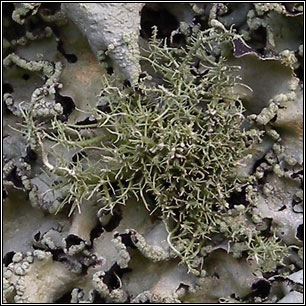 Order: Lecanorales Family: Parmeliaceae

Species: Usnea cornuta


Growth type fruticose.
Photos: On Birch trunk. Bantry, Cork, SW Ireland.

Not blackened at base. Side branches markedly constricted where joining main stem, few pale annulations. Smooth cortex with small white dots developing insidia and granular soredia.

Widespread on +/- shaded tree trunks, also on rocks in woodland.

Two chemical races. Medulla K+ yellow or orange-red, P+ orange
or K+ red, P+ orange to red.