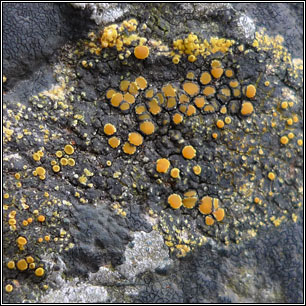 Order: Teloschistales Family: Teloschistaceae

Species: Caloplaca microthallina

Growth type crustose.
Photos: On acidic coastal rocks. County Cork, SW Ireland.

Minute and often scattered orange-yellow lobes or squamules, no prothallus. Conspicuous orange apothecia with crenulate margins.
Thallus: K+ crimson / purple.

Maritime species, often found over-growing Verrucaria maura on acidic or calcareous coastal rocks.