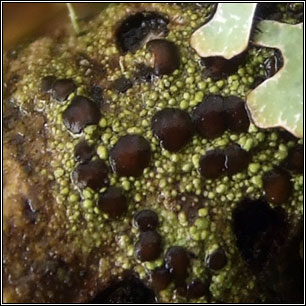 Order: Incertae sedis Family: Fuscideaceae

Species: Fuscidea lightfootii


Growth type crustose.
Photos: On willow twig. Ballingeary and Glengarriff, SW Ireland.

Often infertile, thallus forms small circular patches of bright-green to olive-brown warted and often sorediate granules. Thin apothecia are black or brownish-black, flat or slightly convex with slightly paler margins. Asci 8-spored, the spores simple, 8-11 x 3.5-4.5 µm, medianly constricted. Colourless, sometimes brown when old.
Chemical reactions negative, UV+ white or UV-

Frequent on smooth-barked twigs, particularly Willow (Salix), in wet woodlands and boggy areas.