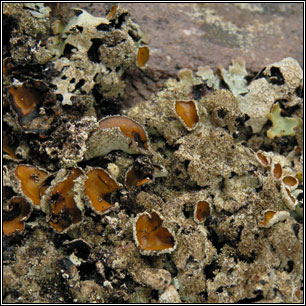 Order: Lecanorales Family: Parmeliaceae

Species: Parmelia saxatilis


Growth type foliose.
Photos: On acidic upland rock. Ballingeary, Cork, SW Ireland.

Blue-grey to greenish-grey thallus, ridged lobes, tips often browned. Simple rhizines. Conspicuous white pseudocyphellae, grey brown isidia form on reticulation and can spread to cover thallus. Apothecia rare, red-brown with thin crenulate or isidiate margins.
Sometimes parasitised by Marchandiomyces corallinus but mite damage can cause similar discolouration (bottom photograph)

Common on walls, rocks and acid barked trees.
Medulla: K+ orange turning red, C-, P+ orange, UV-

Similar: Parmelia sulcata. Sorediate, but isidia are absent.